St Gemma's Hospice – Reflecting on a year of progress.
St Gemma's Hospice welcomes everyone regardless of people's age, gender, disability, race, religion, sexual orientation or diagnosis. Over the past year, LGBTQ+ inclusion is an area we have focused on, with staff taking the lead and collaborating to learn what best practice looks like and how best to meet everyone's needs.
Back in June 2022, we celebrated Pride Month with a Pride-themed 'catch up with cake' for staff. This informal get-together was an opportunity for colleagues to come together and kick-start conversations about how we can make St Gemma's more inclusive.
In August, we joined the Leeds Pride parade. This was well attended by staff, and St Gemma's presence at Leeds Pride got a great response from other attendees.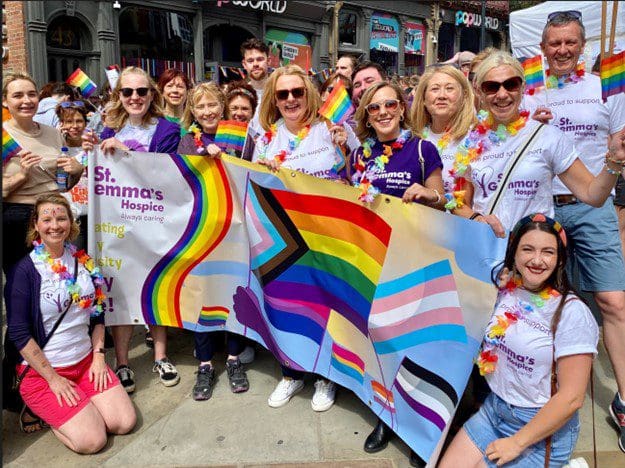 During the staff wellbeing week last October, Dr Ellie Kane gave a talk about transitioning. This access to knowledge helps colleagues to better support each other, and also informs patient care and how we support the needs of our LGBTQ+ patients and families. Caring for everyone who needs us is, and always will be, central to the ethos of St Gemma's.
We have implemented the optional inclusion of pronouns for staff to use in their emails. Including pronouns allows staff to show solidarity and create an environment where colleagues can be comfortable sharing their pronouns, and there is no obligation to where people don't feel comfortable doing so.
Moving into 2023, we have introduced Pride badges that staff can choose to wear to show they are a listening, friendly, and responsive ear. Before wearing the badge, staff take a pledge to be an ally, signposting people in need to organisations and local contacts who can provide more specific assistance, and commit to speak up and call out hate.
While all St Gemma's staff and volunteers are here to support anyone in need, we hope wearing the badge will allow anyone, including patients, to feel more comfortable approaching a colleague and discussing LGBTQ+ topics.
Along the way, colleagues have met to discuss how they would like LGBTQ+ issues to be represented and we have created a staff network open to everyone, encouraging people to learn and ask questions. We recognise that not everyone is comfortable in group settings and have also devised a digital suggestion box below where staff can raise anything they would like the group to discuss.
This Pride Month, we held another Pride-themed 'catch up with cake' to celebrate the progress we have made together and look forward to joining the Leeds Pride parade in August. Our chain of charity shops have created fantastic Pride displays in their windows; our shops are long-time supporters of Pride Month, representing inclusivity in their communities.
We are so proud of our team for their collaborative efforts to make St Gemma's more inclusive. This work has been recognised with a 31st placing in the Inclusive Companies list, and will continue long into the future.