Inflation reached a peak in October 2022 at 11.1%. This was due to the cost of living crisis which manifested with a significant increase in energy, gas and food prices.
However, since then it has fallen significantly, nearly by half to date. The latest official figures for August 2023 show that (latest official data from ONS) its 6.7% , this follows reductions starting in March 2023 at 10.4% to consistent and pronounced declines. The graph below from ONS shows it clearly. (Source: Consumer price inflation from the Office for National Statistics)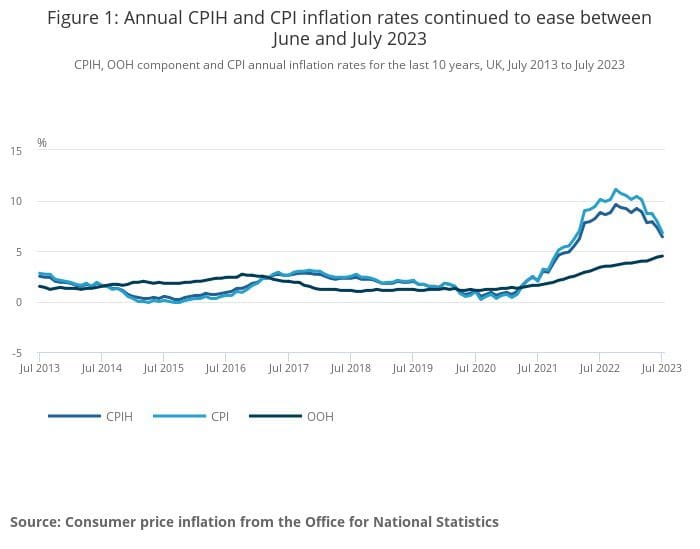 Consecutive interest rate rises has stemmed spending and in turn we have seen inflation fall. After 14 consecutive interest rate rises since December 2021 The Bank of England has held rates at the latest review as they observe the impact that previous rate rises have had. It looks like this strategy is now working for them. The data shows that inflation is now declining. Let us not forget the Bank of England have an inflation target of 2% and as such will lever rates and spending to return to this ASAP.
Meanwhile the Banks have been slow to pass on these increased rates to savers and it is obvious that banks will be quick to lower savings rates on the way down also. This disadvantages savers and ensures savers will never beat inflation from their savings products in the long run. The banks will continue to make their largest profits during periods like this as they benefit from the rate margins between lending and saving. The banks and cash rates do not offer long term investors rewards and anyone with a long-term investment window should ensure that they are invested in assets that will grow in the long term. Whilst it may still seem appealing to invest into cash it will not beat inflation in the long run.
Please see historical evidence of this over differing timescales against some of our investment portfolios. The graphs shows cash deposits and the Bank of England at the bottom with inflation far out pacing it. The investment portfolios can be seen outperforming cash, BofE and inflation up to 3rd October 2023 over the last 8 years.
Our note to our clients is not too be swayed by this sugar rush of cash for long term investments as it won't last and it won't be kind to you in the long run.
Please note past performance does not indicate future returns and this article is for information only and does not constitute advice.