Pension Advisors Horsforth
Plan for a brighter tomorrow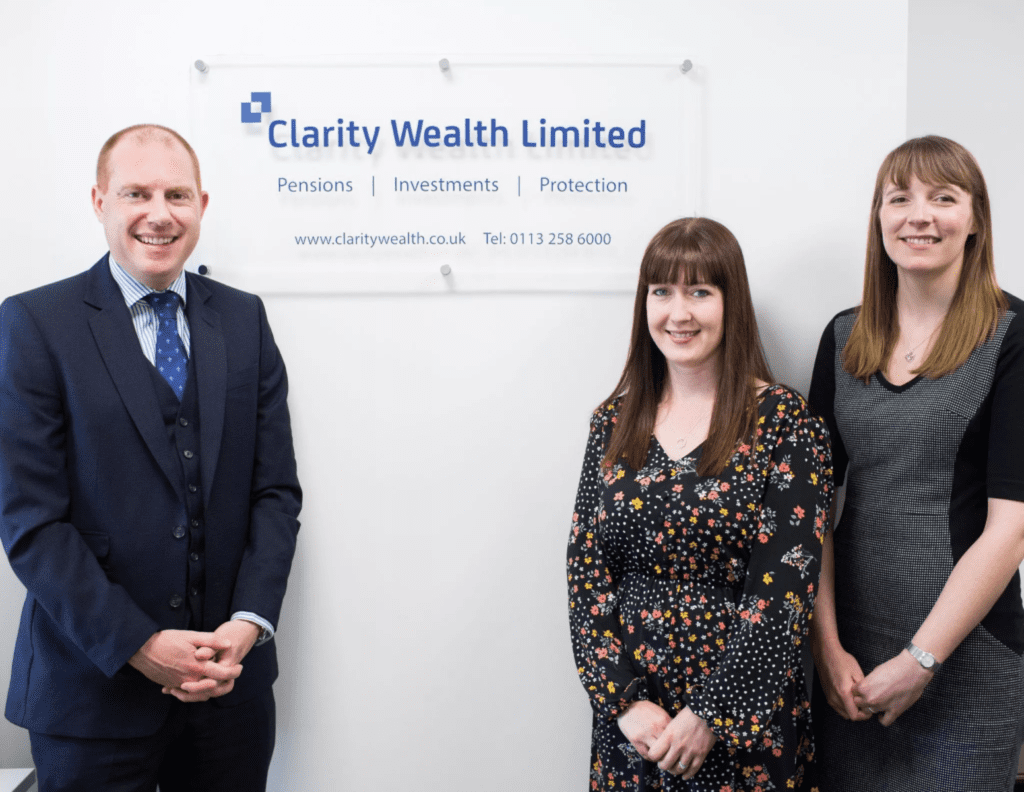 Here at Clarity Wealth Limited, our Pension Advisors Horsforth know that effective financial planning must not only enable you to sustain and create wealth but also preserve it for the future. It must include practical financial solutions that are designed and implemented by financial experts.
Our services are based on over 20 years of experience in understanding the large and smaller challenges that our clients face when pushing to achieve their own unique wealth goals.
Clarity Wealth Limited brings together the right skills and innovative solutions to provide a fully tailored framework that is built around your individual needs. We start by understanding your personal goals, plans and objectives. We then develop a strategy that ensures you reach them.
When can I afford to retire?
For a lot of people, the savings they build up during their working lives are meant to help them to become financially secure in retirement. But, quite often, people continue to save without a retirement planning goal. When you think about it, knowing how much you need to live the life you have become used to isn't easy – not least when this must provide for the whole of your retirement.
As a result, this can create uncertainty. But we can help you to build a clearer picture. If you are seeking advice on when you can afford to retire in line with your financial goals, our team can provide you with the guidance you need. Whether your retirement is close or a long way in the distance, our holistic retirement savings and pension advice can help provide for your non-working years.
How can Clarity Wealth Limited help?
At Clarity Wealth Limited, our team is highly experienced in financial planning for retirement and providing specialist investment advice before and after retirement. Some of the areas in which our pension advisers Horsforth can help you include:
Offering detailed pension advice, including tax implications and contributions
Providing lifestyle planning through detailed cash-flow forecasting
Growing your investment portfolio and managing your assets
Talking you through all of the financial complexities you may need to plan for
Your Clarity Wealth Limited pension adviser Horsforth will provide you with regular retirement planning reviews, so you know exactly how your investments are performing. Dependant on your personal needs, you can let us act on a discretionary basis, where you allow us to manage your investment portfolio on a day-to-day. Alternatively, you can opt for us to provide our service on an advisory basis, meaning you are involved in the ongoing decisions made on your portfolio.
Why financial planning for retirement is important
It is never too early to start thinking about financial planning for your retirement. We know that planning for the future can be a complex process – however, that is where our pension advice team in Horsforth can help. It is always a good idea to start your retirement planning process sooner rather than later.
Statistics clearly indicate that people are living much longer than ever before in history. This will only continue to increase in the years to follow. As a result, retirement now delivers a much larger proportion of our lives. So, it is crucial to save enough to cover the costs of living longer.
By starting as early as possible on your retirement planning, we will help you ensure that you enjoy the retirement lifestyle you have worked so hard for and saved. Making the best decisions today can help to make sure of the highest quality standard of living for tomorrow – all of which will be supported by your retirement investments and savings.
Just how much do you need to save for your retirement?
There are lots of factors to take into consideration when calculating your retirement savings pot, some of which will be personal to you and the lifestyle that you are aiming to achieve. By understanding your financial needs and goals, our teams will help develop and execute clear financial plans for your retirement − no matter when you want that to be.
Your future lifestyle is a key element of retirement planning. This will act as a guide and indicated how much you need – and want – to save in order to reach that point. Showing you the best way to achieve that with the wide range of retirement savings options available to you is where our pension advice team will help you. Whether or not you have an ideal value in mind or you need our investment and savings take all scenarios into consideration, contact us now.
Making your money go further during retirement
The value of the retirement savings you build up can make a huge difference when you come to need them. We have many years of experience in helping our clients push their money further still – even beyond retirement.
Our bespoke pension advice Horsforth will help you to make the right decisions for you on when and how you decide to access your pension pot. This is now perhaps more important after the changes to the pension freedom rules which provide increased flexibility and choice. With multiple tax implications of options such as purchasing annuities or income drawdown, a bad decision could result in drastic consequences.
Clarity Wealth limited go further than just helping you make sure you are saving correctly for later in your life. We take immense pride in developing custom-designed strategies based on technically sound planning and investment advice after retirement – to ensure you capitalise on the potential to make your money go even further.
Why Clarity Wealth Limited?
From retirement planning services to expert investment advice after retirement, Clarity Wealth Limited are here to assist – caring for your all future needs. With a truly bespoke and holistic approach that focuses on your individual financial requirements, we bring much-needed clarity to your financial future in retirement.
The service we deliver to you is always a bespoke and personal one – we believe in building strong, lasting relationships with all our clients who come to us for support and guidance they can trust. Financial planning for retirement can be incredibly complex. But, with our pension advisers Horsforth' vast depth of knowledge and experience in all of the relevant areas, we will help you make informed decisions that will shape your financial future for years to come.
Contact us now for more details or to arrange a complimentary, no-obligation discussion about your retirement.
How can I ensure my family has a bright financial future?
Whether you are looking for a financial adviser Horsforth to provide you with expert financial advice on how to provide for your children's future education or how to prepare for the cost of a loved one's long-term care, we can help. By talking through your financial goals with us, we can build a financial plan that works to help ensure you achieve those goals. This will also help to ensure that the process of passing down your wealth is tax-efficient and as easy as possible.
How will I know when I have enough?
UK government statistics reveal that people are now living longer than ever. Have you considered what your financial situation will look like after you retire? If you have focused too much on the present day, our expert financial advisers Horsforth will work with you to greater understand your long-term financial goals. This could include anything from a comprehensive cash-flow plan to the exploration of non-pension investment options – all with the goal of helping you to better understand if and when you can reach real financial independence.
How can I plan for the unexpected?
The best thing you can do to prepare for the future is speak with our financial Advisers Horsforth in Horsforth, no matter where you live in the UK. We will create a plan, one that is designed to help you deal with the unexpected in the future. Should an unplanned situation arise, we have the expertise and knowledge to help you put an effective financial structure in place. Allow our financial advisers Horsforth to prepare you for any eventuality.
When can I afford to retire?
Do you know exactly how much you will need to have saved in order to live comfortably in your retirement? Our team of financial advisers Horsforth will help you with creating a financial plan, which will help to provide you with financial clarity on your retirement years in advance.
How will long-term care impact my finances?
Do you currently have a plan in place to protect yourself and your family, should anyone need long-term care in the future? Our financial advisers Horsforth have the knowledge and expertise on how to manage your money, by providing you with the reassurance that you are covered for any potential long-term care costs in the future.